"ALL OF POLAND READS TO KIDS" COLLECTION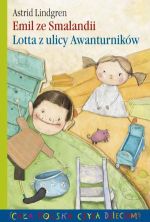 Astrid Lindgren

Emil ze Smalandii

[Emil i L

önneberga/Emil of Lönneberga]
"Too bad about the Svenssons," the neighbours tutted when they saw the pranks Emil pulled. "Their son is such a rascal." But they were wrong! For one thing, Emil never pulled any pranks out of meanness. For another, Thomas Alva Edison himself, inventor of the phonograph and the light bulb, was regarded as a ne'er-do-well when he was in school because instead of studying he was always tinkering with something, putting things together and seeing how they work. Emil is like that, and with his boundless curiosity he's got a real talent for trouble. Fortunately, Emil's parents are wise enough to realize that he's a good kid. Like any boy, he just needs to find an outlet for his energy and ideas—sometimes a little shocking.
Lotta z ulicy Awanturników
[Lotta på Bråkmakargatan/Lotta on Troublemaker Street]
Five-year-old Lotta gets up on the wrong side of the bed and she's sure that the whole family—indeed, the whole world—is against her. And when everything all around is so awful, the only thing to do is move out! Her neighbour, Mrs. Berg, graciously gives her the attic in her own garden shed. At first Lotta is thrilled with her new life, but by nightfall everything is different.
Recommended for children age 4 and up.
Publication date: 28 November 2007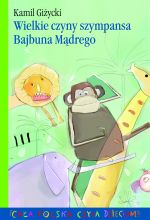 Kamil Giżycki •

Wielkie czyny Szympansa Bajbuna Mądrego

[The Great Deeds of the Chimpanzee Bajbun the Wise]
The chimp Bajbun the Wise, a prudent and responsible courtier, handles with aplomb the weightiest matters and strangest whims of his king, the lion. Even when the situation looks hopeless, thanks to his intelligence, experience and cunning, he always finds a way out of difficulties, and more than once he has saved the animal kingdom from disaster. It's frightening to think that what would happen if his majesty the king ever had to rule over his subjects all by himself, without the chimp's counsel.
From the story of Bolombo—who that is you will find out when you read the introduction to these chronicles of Bajbun's deeds—you will also learn why the elephant did not become king of the animals, why ostriches don't fly, where the zebra got its black stripes, why the rhinoceros has a horn on its nose, and why the giraffe has such a long neck. Through this book by Kamil Giżycki, a globetrotter who is passionate about Africa, you can be transported to the boundless plains and savannah of the African bush, without poking your nose out of the book.
Recommended for children age 6 and up.
Publication date: 5 December 2007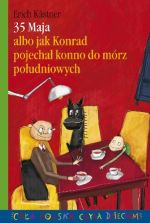 Erich Kästner • 35 maja albo jak Konrad pojechał konno do mórz południowych

[Der 35. Mai/The 35th of May, or Conrad's Ride to the South Seas]
When you travel, time flows differently. But sometimes it works the other way around: when time flows differently, the journey begins.
For example, on a day like the 35th of May—that's when, according to Erich Kästner, the German master of humour and author of this little book, "a person must be prepared for all manner of extraordinariness." No wonder then that little Conrad and his uncle Rabarbar eagerly take up the proposal from an eccentric horse they meet by chance, Negro Caballo, to help the boy find a topic for his school report by setting off in search of the South Seas. The fellows bravely plunge into mists of absurdity, visiting along the way the Land of Cockaigne, the Castle over the Great Past, a childhood topsy-turvy world, and the mechanical town of Electropolis. Anyone who wants to know more about how this unusual journey ends must set off without delay to join Conrad, his uncle, and the black horse Negro Caballo.
Recommended for children age 7 and up.
Publication date: 12 December 2007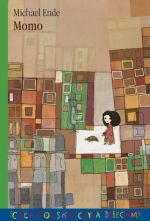 Michael Ende • Momo
Young Momo lives alone amid ancient ruins. She has a unique gift of listening. Adults bring their troubles to her, and she is a leader to other children. But her happy world of friendship and fun comes to a sudden end. The mysterious Men in Grey arrive, dressed in ashen suits, carrying grey briefcases and constantly smoking little cigars. They trick people out of their free time, taking away the joy of childhood. When it seems as if they have managed to take control over all thought, Professor Hora appears and decides to put a stop to their omnipotence. Momo will carry out Hora's plan.
Michael Ende, author of The Neverending Story, has written a book that captivates readers young and old. Stressed-out parents should read this book closely. Maybe then they'll start to find time for the most important things...
Michael Ende's books have sold millions all over the world and have been translated into over 40 different languages.
Recommended for children age 9 and up.
Publication date: 19 December 2007
Anne-Cath. Vestly • 8 + 2 i ciężarówka

[Åtte små, to store og en lastebil/Eight Children and a Truck]
Chaos constantly reigns in this sympathetic family—no surprise, since there are eight children living and playing in one room: Maren, Martin, Marte, Mads, Mona, Milly, Mina and little Morten. Add to this crowd two parents and ... a truck, and we have all the book's main characters.
You can learn from this book how to turn an apartment into a ship, get along with a difficult neighbour, help an old lady who's lost all her money and has nothing to get home, and also how to manage when nothing seems to be going according to plan.
Even though there are some sudden reversals and changes in the life of this happy family, the devoted old truck is sure of one thing: "If people leave you alone, everything will probably work out just fine."
Recommended for children age 6 and up.
Publication date: 2 January 2008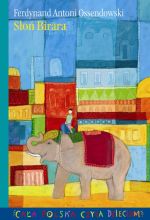 Ferdynand Antoni Ossendowski Słoń Birara

[Birara the Elephant]
Birara the elephant is an important member of the family of little Amra. He is strong and tough and knows how to work in the jungle. After the sudden death of his grandfather, who directed Birara's work uprooting trees, 10-year-old Amra must take up overnight the duties of an elephant driver and sole breadwinner for the family. The wise Birara soon becomes the boy's best friend, helper and confidant. Thanks to the elephant, Amra is not only able to maintain his large family, but also experiences many adventures, saves the life of Prince Nassur, and obtains an opportunity to study in London.
This fascinating and beautiful story about the great friendship between a boy and his brave, devoted elephant plays out in the exotic atmosphere of India. The author, Ferdynand Antoni Ossendowski, led a colourful and adventurous life as a scientist, journalist, soldier and traveller ... and even a spy. Birara the Elephant is one of many books for which the author was renowned during the interwar period.
Recommended for children age 10 and up.
Publication date: 9 January 2008
Witold Makowiecki • Diossos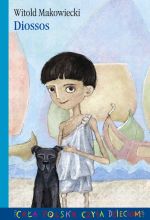 In ancient Greece it was possible to be forced into slavery for a long time. Young Diossos, who lives in Corinth, learns this the hard way: because of his stepfather's unpaid debts, Diossos and his mother and siblings become slaves. The only one who might be able to save them is his friend Polinic, a runner and champion at the games. It's a long way to reach him, though; he lives in far-off Miletus. In search of help, Diossos must not only slip by the guards. He also must pass through the dangerous mountains and across the sea. He is helped out along the way by good people, a mean dog and even some scary pirates. But will he reach his friend in time? Will Polinic manage to get a team together to rescue Diossos's family from slavery? They have just 30 days...
The dramatic story of Diossos, which Witold Makowiecki wrote during the war with his own children in mind, offers lively, fast-paced action as well as lots of information about the history and culture of ancient Greece. It is a beautiful story about timeless values: honour, loyalty, courage, and true friendship, which can overcome all obstacles and dangers.
Recommended for children age 10 and up.
Publication date: 16 January 2008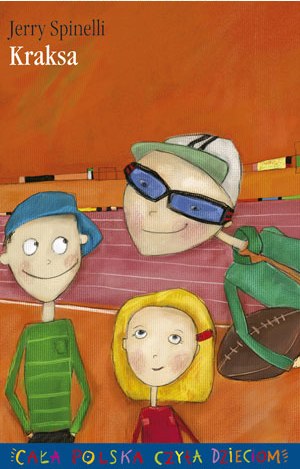 Jerry Spinelli • Kraksa

[Crash]
"Crash" is the nickname of John Coogan, the school troublemaker who always gets his way. He loves brand-name clothes, fighting, and his position as best athlete on the team. Crash is sure that success in life depends on money, muscles and moxie. Lots of his buddies think the same way. But not Penn Webb! Penn is a new student. Skinny and unassuming, not very interested in sports, he wears nerdy clothes and is so naive he's practically begging to be teased. Crash is only too happy to oblige ... for a while. It turns out that this friendly weakling, vegetarian and pacifist has a surprising influence on tough-guy Crash.
There's another important person who changes Crash's whole family. His parents, always busy making money, suddenly begin to notice other things—but you can read about that in the book.
Jerry Spinelli is a widely-read American author who has written dozens of books for children and is the winner of the prestigious Newberry Medal from the American Library Association.
Recommended for children age 10 and up.
Publication date: 23 January 2008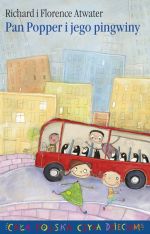 Richard and Florence Atwater • Pan Popper i jego pingwiny

[Mr. Popper's Penguins]
When our most secret dreams finally come true, the effect on us can be strange and unexpected. That's how it is with Mr. Popper, a housepainter in the small town of Stillwater, who has dreamed for years of an expedition to Antarctica. Lo and behold, a penguin shows up on their doorstep. Captain Cook, as they call him, is about the zaniest bird of his species. Dressed in his elegant tailcoat, he brings total chaos to Mr. Popper's house: he lives in the freezer and enjoys sliding down the stairs on his tummy. He turns the whole kitchen into an icebox, navigable only on skates, and Mr. Popper turns the basement into a swimming pool. But the Popper family's real troubles don't start until Captain Cook's sweetheart moves in—followed soon after by 10 baby penguins.
This entertaining book by Richard and Florence Atwater won a prestigious prize as a Newberry Honor Book in the US.
Recommended for children age 5 and up.
Publication date: 30 January 2008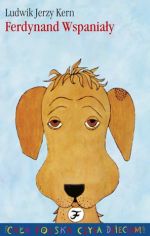 Ludwik Jerzy Kern • Ferdynand Wspaniały

[Ferdinand the Magnificent]
When an ordinary dog stretches out on the sofa, ordinary thoughts pop into his head: "Why don't these fleas gimme a break?" or "I wonder when my people will walk me?" But when someone like Ferdinand is lying on the sofa, his thoughts are daring and unusual: "What if I stood on my own feet ... my own two feet? And went to a place where no one shouts: 'Heel!'" Impossible, you say? Not for Ferdinand. So he stands up ... gingerly he makes his way down the stairs, then more boldly strolls down the street. Finally he reaches the tailor's shop, where he orders a suit. Then it turns out that what seemed impossible at first is perfectly easy. A journey to outer space on a hotel lift? Go right ahead! A gold medal at an exhibition? Why not? That's how it is when we dare to dream. Something special happens, we become magnificent, and life is much more pleasant, even if...
You will see for yourself when you read this entertaining book by Ludwik Jerzy Kern, which has been translated into numerous languages and adapted for screen and stage.
Recommended for children age 6 and up.
Publication date: 6 February 2008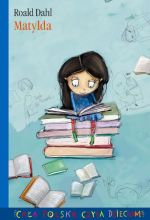 Roald Dahl • Matylda
[Matilda]
Do you like your teachers? Even if they're not all perfect, there is surely not a one among them who's such a monster as Mrs. Trunchbull, the headmistress of Matilda's school. The fact that Mrs. Trunchbull works out sometimes by practising "pupil tossing" pretty much says it all.
Life is not easy for Matilda at home either. She has to fight with her parents for her place and her rights. But Matilda is no ordinary child! She has the makings of a real genius. She reads like a whiz, quickly does multiplication in her head, and thinks some very wise thoughts. Indeed she can do even more amazing things...
How will the fate of this unusual little girl play out? In stories by Roald Dahl anything is possible, any ending! In Matilda he gives children a charge of emotion and lots of good humour, painting the portraits of surprising characters: funny, scary, but always fascinating. He always conveys something more: faith in the power of reading and the strength of a child's dignity...
Recommended for children age 8 and up.
Publication date: 13 February 2008
Grey Owl • Przygody Sajo i małych bobrów

[The Adventures of Sajo and Her Beaver People]
"Sit around the bonfire in a smoke-filled wigwam," writes the author of this book, Grey Owl, an Englishman and colourful figure who chose to become an American Indian. "You will hear a story from long, long ago."
This won't be a story about valiant braves in feather headdresses, wielding tomahawks, but a moving story about a great friendship between two Indian children and charming little beavers. But there are also unusual adventures, moments of danger, and proof of devotion and outstanding courage. Big Feather, a trapper from the Ojibwa tribe, brings his daughter Sajo two little beavers whose life he saved. He couldn't imagine then that deep affection for the pets would draw the girl and her brother from deep in the virgin Canadian forest to the white people's town. On the way they would face danger, but also know human goodness and nobility.
Grey Owl describes in a colourful and moving way the friendships between people and animals and depicts the bounty of nature that our civilization is steadily destroying.
Recommended for children age 8 and up.
Publication date: 20 February 2008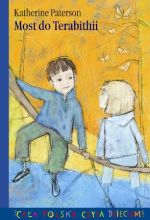 Katherine Paterson • Most do Terabithii

[Bridge to Terabithia]
This is not another fantasy about children who get lost in a fairy-tale world... Katherine Paterson tells a story that is thoroughly realistic.
There is an American small town, a family with several children, and a cow that 10-year-old Jess has to milk twice a day. There are annoying sisters, a feeling of alienation and boredom, and sometimes just dreary school routine. The boy wants to be an artist and live differently, more fully. Like an unexpected ray of sunshine, Leslie moves in nearby: a girl from the big city who's different from everyone else.
Together they dream up Terabithia, a secret land created by Leslie and Jess where they can escape from the drab everyday reality and their mean schoolmates. There they can be themselves. But maybe there is some magic going on in the story? The truest kind of magic: pure friendship, breaking the spell of greyness and painting the world in the colours of the rainbow. But will the bridge to Terabithia prove strong enough?
Recommended for children age 10 and up.
Publication date: 27 February 2008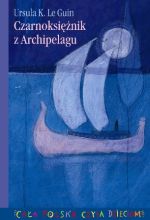 Ursula K. Le Guin • Czarnoksiężnik z Archipelagu

[A Wizard of Earthsea]
It's not easy to become a wizard. You must be patient and perseverant, master your fear and restrain your ego. The mage Ogion submits Ged, a young apprentice in the art of magic, to difficult tests of character. To have power but not abuse it: that is the real trick. Otherwise the balance may be upset between light and darkness, life and death, good and evil. If a wizard succumbs to human weakness and fear, then a shadow slips through the crack at the boundary between worlds, stripping him of power and forcing him to live in constant terror, haunted day and night. Then he cannot be helped by fluency in magic bindings, or the art of transformation, or spells to change shapes. We can conquer fear only when we look it in the eyes. This is the mystery that allows Ged, a goatherd from a little village, to become the most powerful wizard in the archipelago. This book is the first in the four-part Earthsea cycle, regarded as a masterpiece in worldwide fantasy literature.
Recommended for children age 12 and up.
Publication date: 5 March 2008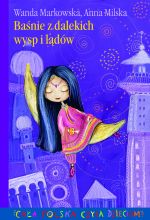 Wanda Markowska & Anna Milska • Baśnie z dalekich wysp i lądów

[Fairy Tales from Distant Lands and Islands]
One of the most famous child psychologists, Bruno Bettelheim, once said of fairy tales that they are wonderful and beneficial. That's exactly what the fairy tales selected for this volume are like. What could be more wonderful for children or adult readers than magical stories from exotic lands? Their names alone are enchanting: Madagascar, Sulawesi, Tunisia, Java, Haiti, Sulu, Vietnam... Listen carefully and you will hear, from the pages of this book, the echoes of the jungle, the crashing of the waves at sea, the buzz of an Oriental bazaar... Extraordinary landscapes and cultures, talking animals, wizards, maharajahs and beggars, all captured in amazing stories that enchant readers with their magic and adventures. But they also convey the experience of generations of distant peoples and the deepest wisdom—a gift to last a lifetime. They teach faith in goodness and justice, love and friendship. They give the child a dose of optimism at the beginning of his path of life: even if today he is poor, homeless and helpless, tomorrow ... who knows? Maybe he will marry the daughter of the raja, like Seruga from the far-off island of Java... Wonderful and beneficial!
Recommended for children age 5 and up.
Publication date: 12 March 2008
Edmondo De Amicis • Serce

[Cuore/Heart]
At times when goodness is an unfashionable concept, television replaces family ties, and school doesn't always convey positive role models, it's worth taking a trip into the past, when love, friendship, responsibility and courage still meant something.
The 11-year-old protagonist and narrator of this special diary, Enrico Bottini, writes about his family and friends, important events, and the streets of Turin, teeming with life a century ago. This depiction of times marked by constant fear for the health and survival of loved ones, but also pride in freshly regained independence and a zest for learning, conveys timeless values: examples of wise parental love, friendship across social barriers, great commitment by teachers to their students' moral and intellectual development, images of patriotism, countless examples of kindness and courage...
This book should be read together. Maybe it will encourage you to talk to one another? Maybe it will stir reflections on our own life and today's relations between children and adults?
Heart
by De Amicis is presented here in a new edition, with more up-to-date language and slightly abridged. But the message remains unchanged.
Recommended for children age 9 and up.
Publication date: 19 March 2008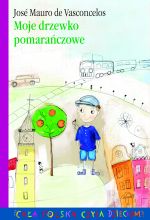 José Mauro de Vasconcelos • Moje drzewko pomarańczowe
[O Meu Pé de Laranja Lima/My Sweet-Orange Tree]
Can you be an adult when you're only 5? Little Zeze knows plenty about life. He knows about hunger, poverty, sadness and suffering. He understands the needs of his unemployed father and little brother, but hardly anyone notices his own needs. Zeze is sensitive and wild, sometimes a demon and sometimes an angel. He has an unusual imagination, his own world where he talks to an orange tree and a bat. He creates a zoo for his little brother, and the song of a little bird vibrates in his chest. He gives love to others but gets little in return.
Zeze, beaten and humiliated, doesn't give up. He maintains his sense of wonder at the world. But imagination alone won't satisfy his craving for love, and the boy appreciates the smallest tokens of kindness: conversations with his uncle Edmundo, his teacher's warm hand, the sympathy of the song seller, and finally a friendship with Portuga that changes his life.
My Sweet-Orange Tree
is a beautiful story about how tenderness is born and how important it is in the life of every person—even a morsel of it is enough to restore the will to live and to turn the gutter into a little patch of heaven. After all, every one of us needs someone who truly cares about us and believes in us. Then, as if touched by a magic wand, we become better, stronger and happier. Joy is sunshine in the heart, drawing its warmth from love.
Recommended for children age 12 and up.
Publication date: 26 March 2008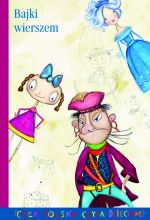 Bajki wierszem

[Fairy Tales in Verse]
(by Polish authors: Wiera Badalska, Jan Brzechwa, Hanna Januszewska, Julian Tuwim, Lucyna Krzemieniecka, Roman Pisarski, Zofia Rogoszówna, Igor Sikirycki, Anna Świrszczyńska, Oleg Usenko & Danuta Wawiłow)
Fairy tales written in verse! What better for reading aloud with the family?! And what tales they are! Sparkling with wit, capturing the beauty of language, these are fairy tales that will stay fixed in our memory all our lives ... until we read them to our own children....
You will find special stories here created by the finest Polish fairy tale poets, like Jan Brzechwa, Zofia Rogoszówna, Anna Świrszczyńska and Julian Tuwim, about the terrible pirate Palemon, who maybe wasn't all that bad, or Mr. Majster's children, who patch holes in their trousers with cabbage leaves and root around in a fairy garden, about a tiger who didn't look like a tiger, or Mr. Maluśkiewicz, who wanted to see a whale.
These are magical stories that entertain and delight, while sharing a gift of lightness and precision of language, lively imagination, a sense of beauty, and the ability to distinguish good and evil.
Recommended for children age 5 and up.
Publication date: 2 April 2008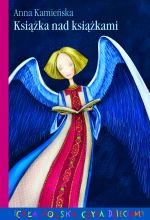 Anna Kamieńska • Książka nad książkami

[A Book Above Books]
It was more or less like this: little streams of proverbs and fairy tales joined up with creeks and rivers of myths. They flowed along, carrying all the joys and fears of a people who had come to live in a world full of inexplicable events. Some of them, like the fundamental laws of nature, have already been explained. Others, like questions of life and death and what could come after, remain a mystery.
People drew from these waters ideas about how to live, what decisions to make in difficult times, when God (for they thought someone had created them) tested their faith. This went on for centuries, as the creeks and streams carved out a great valley through which flowed a river above rivers, a story above stories. People wrote down this story a thousand years ago, and in this way an extraordinary book came to be, a record of all matters human and divine—a book above books later known as the Old Testament.
"It is as deep and inexhaustible as the ocean," wrote Anna Kamieńska. "You must read it for a long time, and spend time together, before you learn how to decipher it and understand it." Her Book Above Books, which is an encounter with the Old Testament, is an excellent aid in this learning process.
Recommended for children age 10 and up.
Publication date: 9 April 2008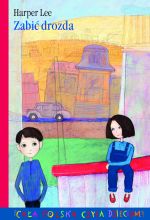 Harper Lee • Zabić drozda

[To Kill a Mockingbird]
Scout and Jem, the children of the respected lawyer Atticus Finch, have a happy childhood full of fun, secrets and interesting discussions with their father, who after losing his wife is raising the children alone, with the help of their black nanny Calpurnia. In a sleepy provincial town in the American South, time moves slowly and people are upstanding and God-fearing. But when there is a brutal crime in the area, involving the family of the local rogue and a black workingman, before the trial the town comes out in favour of the white people. Atticus, convinced that the black man is innocent, takes on his defence. He knows it's an extremely hard task, but he doesn't know what an important role his children will play in the case and the price they will pay. To Kill a Mockingbird is Harper Lee's only novel. It deeply changed the consciousness of Americans on racial issues. But its message goes beyond local American topics. It contains many truths about love within families and respect for one's own children, and deep wisdom about life. Above all, To Kill a Mockingbird is a timeless testament to courage and human decency. The novel shows that justice and righteousness require a strong character, because sometimes you have to fight for them against the whole world.
Recommended for children age 14 and up.
Publication date: 16 April 2008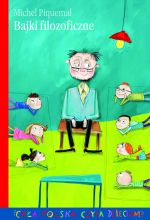 Michel Piquemal • Bajki filozoficzne

[Les Philo-Fables/The Philosophy Fables]
The wisdom of the East, Jewish and African fairy tales, parables from Europe, ancient history, myths from the ancient world—all are brief and all fit together. Reading each text takes about a minute. Is a minute of reflection a day asking a lot? Probably not, particularly as these simple, sometimes funny stories cut to the quick and provide an excellent occasion to talk with our children about what's really important and what gets overlooked in the daily hustle and bustle. What is justice, love, wisdom? What do we need to be happy? What is power, and what is freedom, and what price will we pay for them? Some would say these questions are too serious for a child. Not at all, if, as here, abstract concepts are presented using thought-provoking images, spiced up with perverse commentary, often provocatively undercutting the meaning. The philosopher asks: Was the person who thought up this fairy tale right? If so, why? What does it have that's important for you? The book encourages thought: you think, therefore you are. Think independently and you'll always be yourself. Be yourself, because if you give that up, who's going to be you instead of you? Sometimes the right question, asked in the right way, can change your life. There are plenty of questions like that in The Philosophy Fables.
Recommended for children age 10 and up.
Publication date: 23 April 2008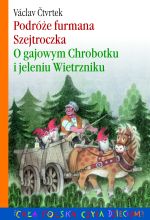 Václav Čtvrtek

Podróże furmana Szejtroczka

[Cesty formana Šejtročka/Travels of Cart-Driver Šejtroček]
In the town of Jičyn there lived an ordinary cart-driver, Šejtroček. But who knew that the cart-driver had a horse that used to be a catfish? This unusual present was given to Šejtroček by a water sprite. This is just the beginning of the adventures of the happy cart-driver. You must hear this story and others from the life of Šejtroček and his unusual horse, Biscuit, which have been published in Polish for the first time. You will meet giants and elves, and even the mysterious Fire People.
O gajowym Chrobotku i jeleniu Wietrzniku
[O hajném Robátkovi a jelenu Větrnikovi/The Forester Robátko and the Stag Větrník]
Do you know what a 36-pointer is? If not, you must get to know the wonderful stag Větrník, whose broad antlers have exactly 36 points, and his good friend and caretaker, the forester Robátko. Many creatures live in their wood, and they all have their own names: a fox, a bear, a rabbit, a boar, and of course a water sprite—with the unusual name (unusual for a water sprite, that is) of Barbara. In the forest there also lives the beautiful Jozefa, who is very fond of Robátko... Everyone likes Robátko except for that awful rich man Krepak and his dog!
Recommended for children age 4 and up.
Publication date: 29 April 2008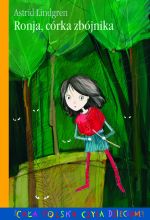 Astrid Lindgren • Ronja, córka zbójnika
[Ronja Rövardotter/Ronia the Robber's Daughter]
"I think that Ronia was born from the fact that I was living in the city and missed the wilderness and the forest," Astrid Lindgren once said. "Then she came to me, with the help of fantasy. I saw a mountain, and on the peak was a robber's castle that suddenly split in two.
"'And who lives there?' I thought to myself.
"'Well, a family of robbers with a daughter and a family of robbers with a son.'
"'And what are their names?' I took an atlas from the Royal Automobile Club and opened it to the section for Norrland. There I found a whole pile of good names, like Mattis Mountain. And Ronia? There's a kind of Sami tent that's called a 'juronjaure.' From that I took two syllables: Ronja. It sounded right."
"Why she do dat?" ask the little Rumpnisse creatures when Ronia falls into their den. One might ask of the author, "How she do dat?"—taking apparently incidental elements and putting them together to make one of the most

wonderful books for children

. It a big little book that is first and foremost about what is most important in life: love. But it's also about what a complicated thing it is to give this gift in a way that brings life to those we truly love.
Recommended for children age 10 and up.
Publication date: 7 May 2008